Ride Safe: Know Before You Go
"Ride Safe: Know Before You Go," is an education program targeting new and existing cyclists. The second component of a three-part safety campaign rolling out in 2022, Ride Safe identifies five critical points of cyclist safety: Protect Your Head, Be Visible, Pick Bike-Friendly Routes, Be Predictable, and Ride Defensively.
In partnership with Skye Canyon and Southern Highlands, starting Monday, May 16, 2022, Ride Safe billboards will appear along major streets and highways around the valley.
"Just as we ask motorists to consider cyclists' presence on the road, cyclists must practice these five points of safety," says Rob Hutchinson, SNVBC's Community Liaison. In January, SNVBC launched Change Lanes for Bikes! It's the Law, an education campaign targeting motorists. "Ride Safe must be second nature for new and seasoned cyclists alike."
During 2020, Southern Nevada's cycling population grew exponentially. Nationally, bicycle sales were up 65 percent during 2020, with e-bike sales increasing 145 percent.[1] The number of registered bikes on the Bike Index increased by 241,330 in 2020. In Las Vegas, retailers like Jared Fisher, CEO of Las Vegas Cyclery, report having sold up to one year's worth of inventory in three months during 2020.
According to the Outdoor Industry Association's 2020 Participation Report, 2020 marked the most significant uptick in outdoor participation in history, and cycling was the third most popular activity, behind walking and running. It's projected that 65 percent of new cyclists will stick with their newfound passion after restrictions lift. In another study recently released by Get Outdoors Nevada and Nevada Outdoor Business Coalition, cycling was identified as one of the more highly engaged daily activities, positively impacting residents' quality of life.
To amplify Ride Safe messaging, SNVBC is partnering with Clark County School District's Safe Routes to School program and the Regional Transportation Commission of Southern Nevada (RTC). Other partners include local jurisdictions and advocacy organizations like Save Red Rock and Ghost Bikes Las Vegas.
"While having the infrastructure in place is important, such as bike lanes and trails, advocacy and education is equally important to the safety of our cycling community," said David Swallow, RTC deputy chief executive officer. "We are proud to support Ride Safe's mission to raise awareness as more of our residents and visitors are choosing biking as a mode of transportation."
Ride Safe Bike Safety and Maintenance Event
To cultivate more unity among the valley's growing cycling population, Saturday, May 7, RTC, SNVBC, and Las Vegas Cyclery host Ride Safe Bike Safety and Maintenance Event. The event is free and open to all cyclists. It includes a discussion on Bike Safety and learning how to protect your head, be visible, ride defensively, and much more! More information is available here.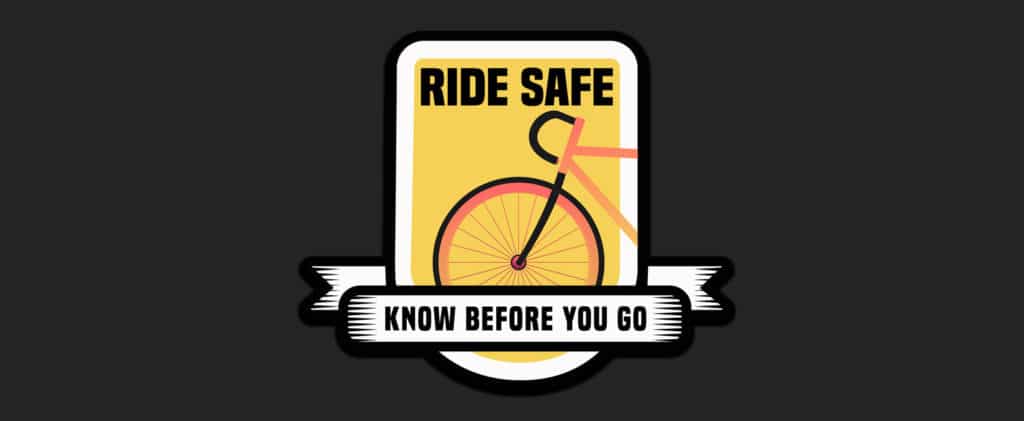 Ride Safe: Five Points of Safety
1. Protect Your Head
A cyclist is only fully protected if their helmet fits properly.
Helmets should be snug but not annoyingly tight.
The rear adjustment wheel and chin strap should be secured so that the helmet presses against the top of the cyclist's head.
Children's helmets should fit when purchased and not considered something to grow into.
Work with a local bicycle retailer to ensure a proper fit.
2. Be Visible
Cyclists must take measures to be sure drivers can see them.
Use front and rear lights even during daylight hours.
Bright-colored clothing and gear can increase a cyclist's visibility.
3. Use Bicycle-Friendly Routes
Choose to ride on streets with designated bike lanes or wide shoulders.
Pick slow streets– roads with lower speed limits.
4. Be Predictable
Cyclists should alert drivers by signaling turns. It's recommended a cyclist signal 100 feet before a turn by extending their arm for two seconds in the direction of the turn.
Cyclists should check over their shoulder for oncoming vehicles before making a left turn or changing lanes.
Cyclists should not do things like making a left turn across traffic unexpectedly, swerve between parked cars, or dart out of a driveway or off a sidewalk without warning.
5. Ride Defensively
In addition to the four points above, cyclists should:
Stay clear of the curbside
At intersections, always make eye contact with the driver before proceeding.
Always assume motorists don't see you, even if you have the right of way.
Be wary of riding in a vehicle's blind spot
Be aware of pedestrians who may step into the road and car doors that may open.
---